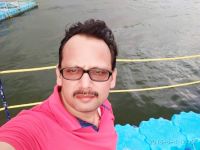 Dr Rajeev Kumar Singh, Principal Scientist
Fish Conservation Division, National Bureau of Fish Genetic Resources (ICAR)
Skills: Genetics and biodiversity
Email: rajeevsingh1@yahoo.com
Experience
My interests lie in the development of novel genomic resources, quantifying genetic diversity of commercially and conservation important fishes and taxonomic resolution. I work on the development of mitochondrial and microsatellite and protein markers, with molecular tools for seventeen fish species developed to date. I have sequenced, annotated and mapped the  mitochondrial genomes of nine fish species for evolutionary and comparative genomics. I am also interested in stock characterisation of prioritised fish species, with twelve characterised to date using nuclear and mitochondrial markers. The information has application in documenting the status of aquatic genetic resources on India for the FAO global status report.
Projects
Outreach activity on fish genetic stocks, Phase II (2014-2019). See Singh et al. (2018) and Dutta et al., 2018, Molecular Biology Reports (accepted).
Outreach activity on fish genetic stocks (2008-2014). See Mandal et al., (2014), Masih et al. (2014), Luhariya et al. (2014) and Mandal et al. (2012).
Development of novel microsatellites in Channa species (Channidae: Perciformes) from North East for conservation genetics (DBT sponsored).(2012-2016).
Establishment of Mapping and Marker Panel for First Generation Linkage Map in Indian Catfish, Clarias magur (2014-18).
Stock characterization, captive breeding, seed production and culture of hilsa (Tenualosa ilisha) (NFBSFARA) (2012-17).
ICAR-CRP Genomics-De novo genome sequencing of anadromous Indian Shad, Tenualosa ilisha (Hamilton 1822) (2015-20)
Deciphering Aphanomyces invadans genome to understand its mechanism of infection in fishes (2015-18)
Harmonizing Biodiversity Conservation and Agricultural Intensification through Integration of Plant, Animal and Fish Genetic resources for Livelihood Security in Fragile Ecosystem (NAIP-GEF) (2010-2014). See Dwivedi et al. (2017), Gupta et al. (2016) and Lal et al. (2016).
Post Doctoral Projects (Supervised)
Phylogeography and genetic stock structure of olive barb, Puntius sarana sarana (Hamilton, 1822) population using mitochondrial and nuclear DNA markers (sponsored by Department of Science & Technology, India) (2014-2016). See Biswal et al. (2018) and Biswal et al. (2017).
Assessment of genetic introgression and variation in hatchery bred Indian major carps (Sponsored by University Grants Commission, India).
Publications
Mitogenomics
Development of Molecular Markers
Genetic diversity assessment
New species, distribution or taxonomic resolution
Contact details
Fish Conservation Division
National Bureau of Fish Genetic Resources
Canal Ring Road
PO-Dilkusha
Lucknow 226002
India
Mobile: +91 522 2441735
Fax: +91 522 2442403
Email: rajeevsingh1@yahoo.com
External profile URL
https://scholar.google.co.in/citations?hl=en&user=CPD-TiQAAAAJ&view_op=list_works&sortby=pubdate