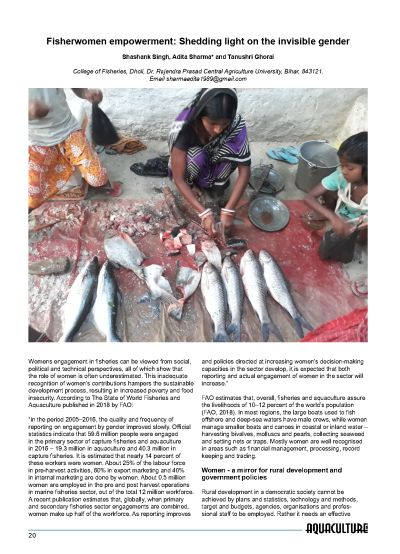 Women's engagement in fisheries can be viewed from social, political and technical perspectives, all of which show that the role of women is often underestimated. In the fisheries sector participation by women may only become visible after the landing of the catch. The inadequate recognition of women's contributions hampers development, slowing progress in reduction of poverty and food insecurity.
Rural development in a democratic society cannot be achieved by plans and statistics, technology and methods, targets and budgets, Rather it needs to make effective use of people, empowering them to attain economic and social improvement. Engaging women in development programmes in their fields of interest improves their effectiveness. This article examines the diversity of women's involvement in fisheries and aquaculture and highlights opportunities to increase the participation of women.
Creative Commons Attribution.