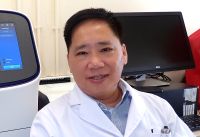 Mr Aaron Leung Chi Fai, Fisheries Technical Officer
Agriculture, Fisheries and Conservation Department
Skills: Health and welfare
Email: afcdaaron@yahoo.com.hk
Experience
For the past 23 years, I have been undertaking inspection programmes on fish health and disease diagnosis at fish farms in Hong Kong SAR. My focus is to facilitate early detection of fish disease outbreaks and allow primary health strategies to be implemented for controlling the spread of disease. Recently, I have diagnosed more than 600 fish disease cases, including parasitic, bacterial and viral diseases. I also have assisted in practical classes and lectures on Fish Health Management at the University of Hong Kong, The Chinese University of Hong Kong and Hong Kong Baptist University on disease diagnostic skills. I have collaborated with Hong Kong Baptist University and City University of Hong Kong in fish disease studies.
Projects
Fish disease diagnostic at fish farms in Hong Kong SAR (on-going programme).
Pathogen screening on imported fry for local fish farms (on-going programme).
Contact details
Rm 822, 8/F
Cheung Sha Wan Government Offices
303 Cheung Sha Wan Road
Kowloon
Hong Kong
Mobile: +852 9802 9893
Fax: +852 2152 0383
Email: afcdaaron@yahoo.com.hk
External profile URL
http://www.facebook.com/leung.fai.980