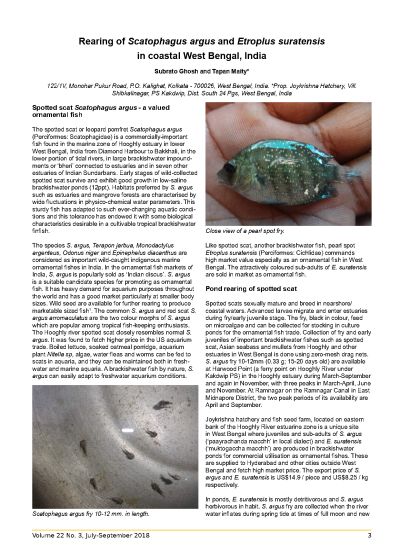 In the ornamental fish markets of India, the spotted scat Scatophagus argus is popularly sold as 'Indian discus'. A euryhaline species, found in coastal waters and estuaries to the freshwater reaches of rivers, spotted scat has heavy demand as an ornamental fish throughout the world, particularly at smaller body sizes. The pearlspot Etroplus suratensis, another estuarine fish, also commands high prices as an ornamental fish.
This article describes the nursing of wild-caught spotted scat seed and in-pond breeding of pearlspot to produce marketable sized fish at the Joykrishna hatchery and fish seed farm, located on the eastern bank of the Hooghly River estuarine zone in coastal West Bengal, India. The fish are reared in brackishwater ponds for commercial utilisation as ornamental fish, supplying Hyderabad and other cities.
Creative Commons Attribution.