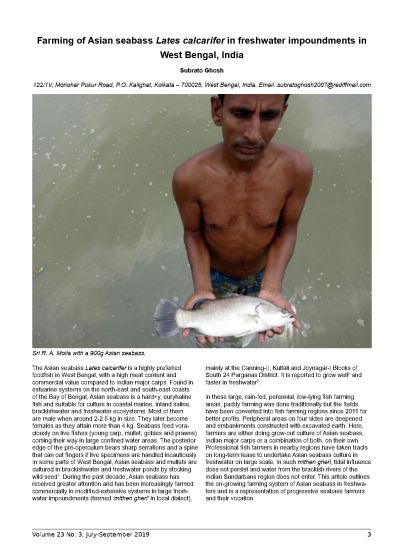 The Asian seabass Lates calcarifer is a highly preferred foodfish in West Bengal, with a high meat content and commercial value compared to Indian major carps. Found in estuarine systems on the north-east and south-east coasts of the Bay of Bengal, Asian seabass is a hardy, euryhaline fish and suitable for culture in coastal marine, inland saline, brackishwater and freshwater ecosystems.
During the past decade, Asian seabass has received greater attention and has been increasingly farmed commercially in modified-extensive systems in large freshwater impoundments (termed 'mithen gheri' in local dialect). In these large, rain-fed, perennial, low-lying fish farming areas, paddy farming was done traditionally but the fields have been converted into fish farming regions since 2011 for better profits.
This article outlines the on-growing farming system of Asian seabass in freshwaters of West Bengal and is a representation of progressive seabass farmers and their vocation.
Creative Commons Attribution.