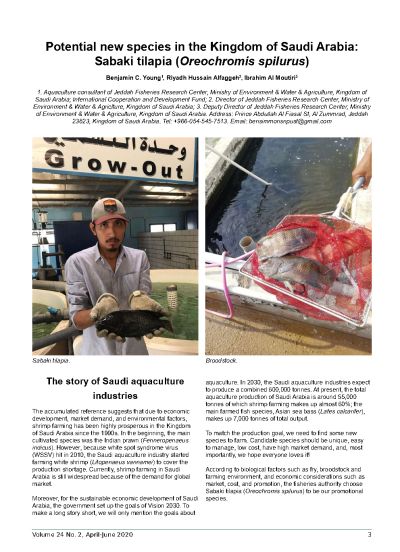 For the sustainable economic development of Saudi Arabia, the government set up the goals of Vision 2030. In 2030, the Saudi aquaculture industries expect to produce a combined 600,000 tonnes. At present, the total aquaculture production of Saudi Arabia is around 55,000 tonnes of which shrimp farming makes up almost 60%; the main farmed fish species, Asian sea bass (Lates calcarifer), makes up 7,000 tonnes of total output. To match the production goal, we need to find some new species to farm. Candidate species should be unique, easy to manage, low cost, have high market demand, and, most importantly, we hope everyone loves it!
According to biological factors such as fry, broodstock and farming environment, and economic considerations such as market, cost, and promotion, the fisheries authority choose Sabaki tilapia (Oreochromis spilurus) to be our promotional species. Sabaki tilapia is not yet a popular commercial farming species. We have the opportunity to be a pioneer!
This article describes efforts to establish Sabaki tilapia aquaculture operations in the Kingdom of Saudi Arabia.
Creative Commons Attribution.