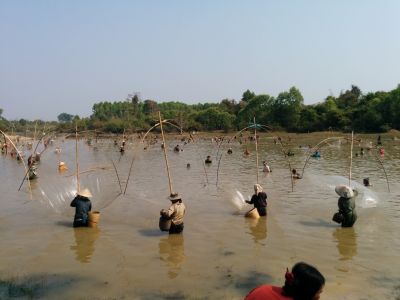 The objectives of this project are i) to introduce culture-based fisheries (CBF) to Cambodia and ii) to consolidate the gains of communities that have adopted CBF in Lao PDR. The project is developing strategies to improve the benefits of CBF under varying social, climatic and governance regimes.
Culture-based fisheries are a useful development strategy for improving the income and food security of rural communities. CBF requires minimal capital outlay, mobilising farming communities to make use of existing small dams and reservoirs for the secondary purpose of foodfish production. Fish growth is driven by natural productivity with no requirement for feeding. Generally, local communities have collective ownership of the stock and the benefits are shared or used for communal purposes.
The project is currently in its second phase (June 2015 - December 2016), focussing solely on Cambodia. The first phase of the project (June 2012 - December 2014) also operated in Lao PDR.
Research issues
In Lao PDR, the main research issues investigated by this project were:
How the economic viability of CBF practices could be improved.
Could a communication system that would encourage exchange of information among communities be utilised effectively for improving CBF management practices and marketing issues confronting rural communities.
Developing protocols for artificial propagation and larva-to-fingerling rearing and science-based broodstock management plans for indigenous species, with a long-term view (regionally) to encourage a shift to aquaculture of indigenous species.
In Cambodia, where CBF has not been previously practiced, the research issues are:
Identifying the suitability of water bodies in six provinces for CBF.
Developing suitable yield-prediction models for estimation of potential yields in small water bodies in relation to limnological and catchment parameters.
Determining the most suitable species combinations and management procedures for CBF through growth trials over two cycles.
Optimisation of CBF yields within the framework of an open access fisheries regime through modifications to practices, utilising designated conservation zones in water bodies as a nursery area.
Impact
Lao PDR
CBF practices were introduced to twelve additional communities, building on a previous project. In almost all instances there has been a gradual increase in in both production and income generated per hectare per cycle, as communities gained experience. Communities have continued to sustain CBF under their own funds and initiative following the end of project support, using the proceeds from harvest to fund stocking of the next crop. CBF practices have in many cases been adopted by neighbouring villages that were not part of the project and are spreading organically throughout the country.
Funding generated from CBF has led to meaningful improvements to community infrastructure, such as the connection of a village school to the electricity grid In Thonwan Reservoir, Pakxan district, establishment of a piped water supply and improvements to irrigation reservoirs and canals.
Better management practices for CBF have been developed based on an analysis of practices in Lao PDR and feedback from participating communities. A model for determining the potential stocking densities to be used for CBF activities in Cambodian reservoirs has also been developed. The findings, which will help to optimise returns from CBF, will be published in a forthcoming technical manual (currently in development).
Community Communications Centres were established in eight locations, mainly in district or provincial government offices, which serve as primary extension points for surrounding communities. Weekly meetings of community leaders and extension personnel are held weekly for crop cycle planning, troubleshooting and sharing of experience.
Community leaders engaged in CBF activities in Lao PDR (Hong Thong and Keo) have been regularly invited to attend the National Fisheries Co-management meetings since September 2013 and the bi-annual Fisheries Progress Meetings, where they share experience and contribute to the adoption of CBF practices elsewhere in the country.
Cambodia
23 reservoirs have been stocked in Cambodia with monitoring conducted on a monthly basis. Early feedback from stakeholder communities indicates a high level of satisfaction; in all cases the total monthly fish landings have increased substantially over pre-CBF levels.
As fishing in inland waters is open access under Cambodian law, the project is trialling the nursing of seed in conservation zones to protect them from fishing for a period and increase returns. Some communities have voluntarily suspended fishing for up to six months of the year in order to give the stocked fish time to grow.
Joint
News archive
Publications
Partners
Department of Livestock and Fisheries, Vientiane, Lao PDR
Fisheries Administration, Phnom Penh, Cambodia
Deakin University, Australia
Fisheries Victoria, Department of Primary Industries, Australia
Funding agency
This project is funded by the Australian Centre for International Agricultural Research.
Creative Commons Attribution.
Related