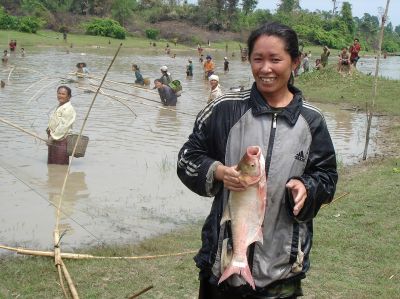 Culture-based fisheries (CBF) are practices to enhance fish stocks in waters that don't have enough natural recruitment to sustain a fishery. CBF practices are usually applied in small water bodies such as village dams and irrigation reservoirs. Fish growth is driven by the natural productivity of the waters. Usually there is no feeding and the fish are left to forage on natural food supplies. Ownership and management of the stock distinguish CBF as form of extensive aquaculture.
Food security remains a serious problem in many developing countries. CBF practices can help farmers to improve their food production and income by harnessing the natural productivity of rural ecosystems. CBF offer several advantages over more conventional and intensive forms of aquaculture:
Simple technology that is easy for farming communities to learn and adopt.
Very low capital costs, making use of existing infrastructure and natural productivity.
Contributes to the income, food security and nutritional status of rural communities.
Suitable for implementation as a communal activity.
Sustainable, very low greenhouse gas emission food production, with no external power or feed inputs.
How can I develop a culture-based fishery?
We have several free publications that can help you. We recommend that you start by downloading and reading the 'better-practice approaches' manual, then move onto the 'Perspectives' volume which provides further insight and more recent case studies showcasing adaptation of CBF practices to suit local conditions in different countries:
This manual provides an overview of the major steps to be taken into consideration in developing a culture-based fishery including community consultations, selection of water bodies and suitable species, guidelines on preparation and stocking, harvesting strategies, marketing and security. The manual is aimed to provide guidance to extension workers and farmer communities on integration of CBF into rural development plans or agricultural crop calendars. Case studies on the development of CBF in Sri Lanka and Vietnam are also presented.
This book is the proceedings of the Regional Consultation on Culture-Based Fisheries Development in Asia, held in Siem Reap, Cambodia, 21-23 October 2014. It provides a general overview of key issues in CBF, selected case studies of CBF development throughout the region including for Lao PDR, Cambodia, Sri Lanka, Indonesia, Thailand and China. A reference list of publications that have arisen from ACIAR-funded CBF projects over the last twenty years is also provided. Video recordings of the technical presentations from this consultation are also available for viewing online or download from the Podcast section of the website.
Current projects
Since 2015 NACA has been implementing a project to introduce culture-based fisheries practices to Cambodia, working with communities around twenty-four small inland water bodies in six provinces circumnavigating the Great Lake (Tonle Sap). The project is funded by the Australian Centre for International Agricultural Research (ACIAR). It builds on an earlier phase that aimed to consolidate CBF in Lao PDR, developing strategies to optimise the benefits under varying social, climatic and regulatory circumstances.
Creative Commons Attribution.