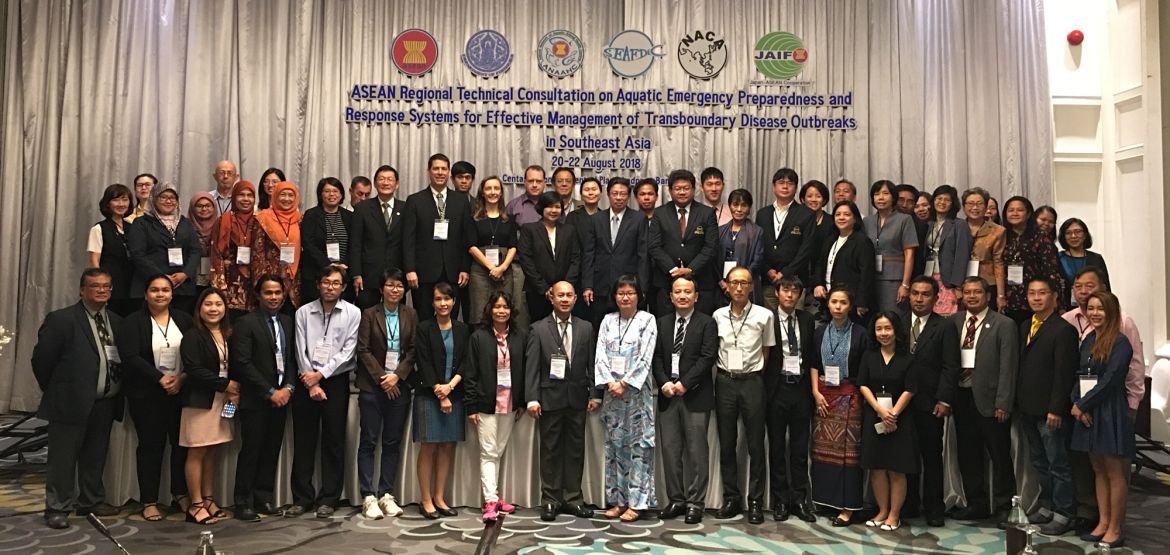 Aquaculture production in Southeast Asia has grown rapidly over the past two decades, but the industry has been severely impacted on many occasions by infectious diseases. The recent outbreak of acute hepatopancreatic necrosis disease (AHPND) in shrimp, for example, caused severe economic losses in Vietnam, Thailand, Malaysia and the Philippines.
A key factor in the spread of infectious diseases has been the irresponsible and unchecked movement of live aquatic animals both within and between countries, with inadequate attention to biosecurity. A lack of capacity responding to disease emergencies has also been a factor, complicated by the fact that emerging pathogens of aquatic animals are often previously unknown to science, and may spread widely before they are recognised.
As a result of the AHPND outbreak, ASEAN member states identified the development of emergency preparedness and response systems and contingency planning for managing aquatic animal disease outbreaks as a priority action.
The ASEAN Regional Consultation on Aquatic Emergency Preparedness and Response Systems for Effective Management of Transboundary Disease Outbreaks in Southeast Asia was held in Bangkok, 20-22 August. The consultation was funded by Japan-ASEAN Integration Fund (JAIF) and organised by the Department of Fisheries, Thailand and SEAFDEC Aquaculture Department, Philippines.
The objective of the consultation was to bring together ASEAN member states and technical experts to discuss the current status of emergency animal disease preparedness and response systems, and to identify gaps and opportunities for regional cooperation in management of transboundary disease. The consultation was tasked with:
Assessing the existing regulatory framework, operating procedures and national aquatic animal health management strategies of ASEAN member states.
Assessing the need for a regional ASEAN emergency preparedness and response system.
Identifying gaps and priority areas for R&D collaboration.
Enhancing cooperation amongst member states, international organisations and other stakeholders in management of emergency aquatic animal disease outbreaks.
The consultation was opened with remarks from Dr Chumnarn Pongsri, Deputy Director General of the Thai Department of Fisheries, Dr Kom Silpajarn, Secretary-General of SEAFDEC, Dr Koh-ichiro Mori, Deputy Chief of SEAFDEC/AQD and Ms Janejit Kongkumnerd, Director of the Aquatic Animal Health Research and Development Division, Thai Department of Fisheries.
The consultation provided an overview of the current status of emergency disease preparedness and response systems and regulatory arrangements in the region, with presentations made by Brunei Darussalam, Cambodia, Indonesia, Japan, Lao PDR, Malaysia, Myanmar, Philippines, Singapore, Thailand and Vietnam. Technical presentations included:
A demonstration of DisasterAWARE, a web-based software system used by many agencies around the world to visualise data and manage response to different types of disaster and natural hazards, by Dr Chris Chiesa, Deputy Executive Director of the Pacific Disaster Center.
A historical overview of transboundary disease incidents and impact, by Dr Eduardo Leano, NACA's Aquatic Animal Health Programme Coordinator.
The trade implications of disease outbreaks, by Dr Jing Wang of the World Organization for Animal Health (OIE).
The response to the recent examples of tilapia lake virus (TiLV) was described by Dr Seangchan Senapin, Deputy Director of Centex Shrimp and Head of the Shrimp Molecular Biology and Biotechnology Laboratory, National Science and Technology Development Agency, Thailand.
Another recent transboundary disease emergency, AHPND in shrimp, was described by Dr Kallaya Sritunyalucksana, National Center of Genetic Engineering and Biotechnology (BIOTEC), Thailand.
Presentations on import risk analysis and assessment and emergency preparedness and response systems as an element of an aquatic animal health management and biosecurity strategy, by Dr Melba Reantaso, FAO.
The consultation broke into a workshop session with participants tasked to identify gaps, make policy recommendations and highlight priority areas for collaborative research and development on regional emergency disease preparedness and response.
The consultation wrapped up with a field trip to the Nam Sai Farms tilapia hatchery, and to the Royal Sea Farming and Aquaculture Demonstration Project in Petchaburi Province.
The proceedings of the meeting will be published by SEAFDEC AQD and audio recordings of the technical presentations will be made available on the NACA website in due course.
Creative Commons Attribution.