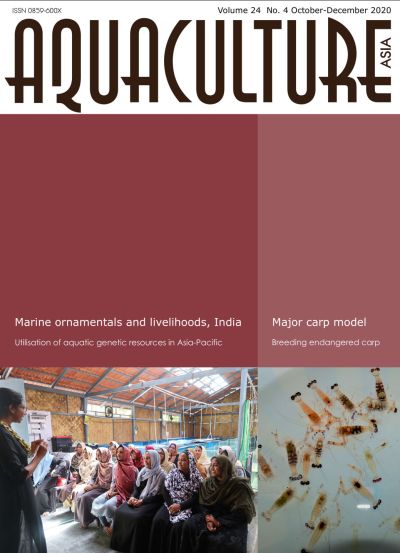 In this issue:
Framework for participatory linkage of marine ornamentals germplasm conservation to livelihoods: Is community aquaculture an inclusive option?
T.T. Ajith Kumar, R. Charan, Teena Jayakumar, L.K. Tyagi, N. Saravanane, Vindhya Mohindra, T. Jaffer Hisham and Kuldeep K. Lal
Induced breeding of farm-bred and pond-raised critically endangered peninsular carp, Hypselobarbus pulchellus
Gangadhar B., Raghavendra, C.H., Ananda Kumar B.S. and Hemaprasanth
A way forward for utilisation of aquatic genetic resources in Asia-Pacific: Synthesis from deliberations during the Regional Workshop on Underutilized Fish and Marine Genetic Resources and their Amelioration 2019
Kuldeep K. Lal, Rishi Tyagi, J.K. Jena and Simon Wilkinson
Cast nets: The dominant active fishing gear in the Kashmir Valley
Naila M. Bhat, Rida Riyaz, Ifrah Rashid, Ahali Jahan, Afief Tariq Shah, and Parvaiz Ahmad Ganie
Moyna model of major carp farming in Purba Medinipur District, West Bengal, India
Subrato Ghosh
NACA Newsletter
Creative Commons Attribution.
Related