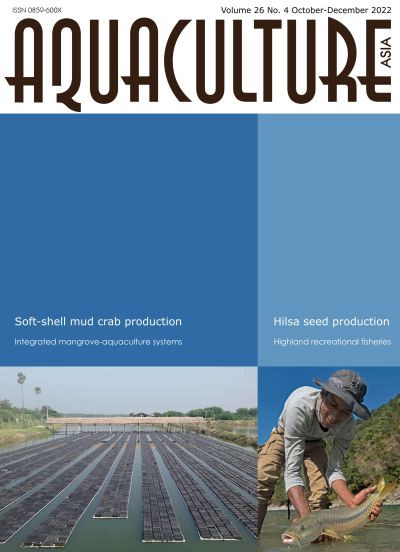 In this issue:
Sustainable livelihood model for coastal families through seabass fingerling production: A success story
D. Deboral Vimala, C.V. Sairam, M. Kailasam, K. Ambasankar, K.K. Vijayan, P. Mahalakshmi, S. Sivananam, R. Subburaj, and G. Thiagarajan
A pilot of integrated mangrove-aquaculture as a nature-based solution to mitigate climate change in West Bengal, India
Sourabh Kumar Dubey, Udo Censkowsky, Apurba Saha, and Ajanta Dey
Recreational fisheries in Uttarakhand
Deepjyoti Baruah, D. Sarma, R.S. Patiya, Neetu Shahi, M.S. Akhtar, R.S. Haldar, P.K. Pandey, R. Posti, Bhupendra Singh and Abhishek Mishra
Soft-shell mud crab production for export in Purba Medinipur, West Bengal, India
Prabir Roychowdhury, Subhankar Senapati, Himadri Chandra and Subrato Ghosh
Conducting artificial fertilisation, hatching and spawn development of Indian shad, Tenualosa ilisha: Pathfinding hilsa domestication
D.N. Chattopadhyay, A. Chakraborty, P.K. Roy, R.N. Mandal, A. Das, A. Hussan, S. Adhikari, B.R. Pillai and S.K. Swain
NACA Newsletter
Creative Commons Attribution.
Related