1 July 2012 | 239 Downloads | .pdf | 1.22 MB | Tags: Australia, China, Climate change, Health, India, Indonesia, Malaysia, Philippines, Shrimp, Sri Lanka, Environment and sustainability, Thailand, Vietnam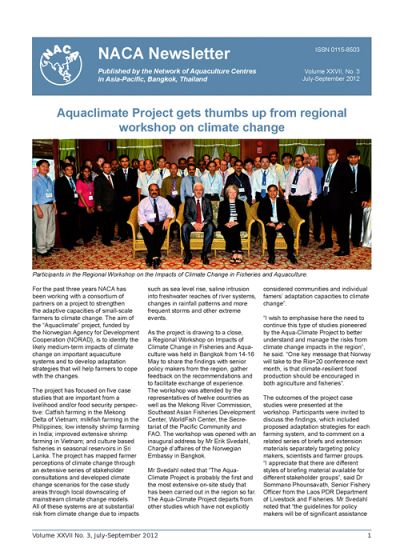 Aquaclimate Project gets thumbs up from regional workshop on climate change.
Developing climate resilient aquaculture: The Aquaclimate Project.
Regional framework for cooperation on climate change.
Emergency regional consultation on shrimp early mortality syndrome, 9-10 August, Bangkok.
Regional study/workshop on adoption of aquaculture assessment tools for sustainability.
Regional proficiency testing for aquatic animal disease diagnostic laboratories.
Creative Commons Attribution.
Related