1 April 2015 | 416 Downloads | .pdf | 1.79 MB | Tags: Australia, Bangladesh, China, Climate change, Gender, Genetics and biodiversity, Hatchery and nursery, Health, India, Malaysia, Marine finfish, Philippines, Shrimp, Thailand, Vietnam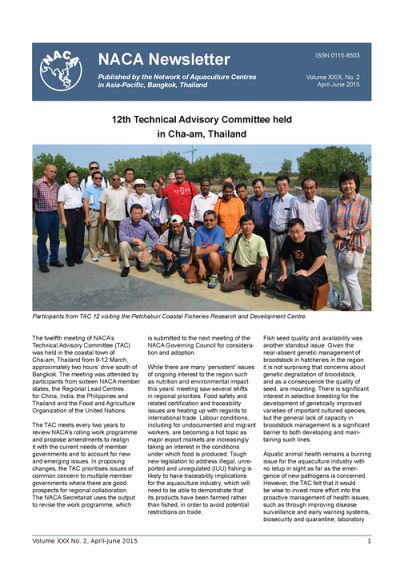 12th Technical Advisory Committee held in Cha-am, Thailand.
Audio recordings: WAS special session on regional cooperation for improved biosecurity.
AFSPAN Final Technical Report now available!
Pillay Aquaculture Foundation Awards for Scientists in Least Developed Countries.
Gender seminar conducted and ASEAN Gender Network launched.
A two-tube, nested PCR detection method for AHPND bacteria.
9th Regional Grouper Hatchery Production Training Course.
Developing an environmental monitoring system to strengthen fisheries and aquaculture in the Lower Mekong Basin.
Asia-Pacific Regional Workshop on the Status of Aquatic Genetic Resources for Food and Agriculture.
Creative Commons Attribution.
Related