12 September 2017 | 1070 Downloads | .pdf | 1.38 MB | Tags: Bangladesh, Culture-based fisheries, Food security, safety and certification, Freshwater finfish, Governance, Health, India, Nutrition and feeding, Pakistan, Shrimp, Thailand, Training and education, Vietnam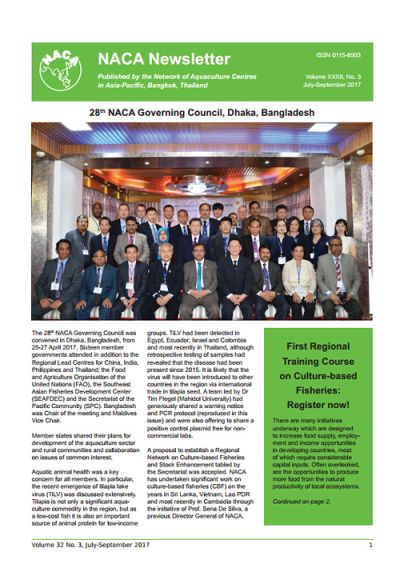 28th NACA Governing Council, Dhaka, Bangladesh.
First Regional Training Course on Culture-based Fisheries: Register now!
11th Indian Fisheries and Aquaculture Forum, Kochi, 21-24 November.
Audio recordings for regional feed consultation now available.
Disease advisory: Tilapia lake virus - an emerging threat to farmed tilapia in the Asia-Pacific region.
Fact sheet: Tilapia lake virus (TiLV): What to know and do?
Urgent update on possible worldwide spread of tilapia lake virus.
Tilapia lake virus - a novel Orthomyxo-like virus.
Quarterly Aquatic Animal Disease Report, January-March 2017.
Proceedings of the International Symposium on Aquatic Animal Health and Epidemiology for Sustainable Asian Aquaculture.
ICAR-CIBA launch "Vanami Shrimpapp", a mobile app on Pacific white shrimp (Penaeus vannamei) farming.
New NACA website.
Pakistan officials train on aquaculture certification.
Creative Commons Attribution.
Related