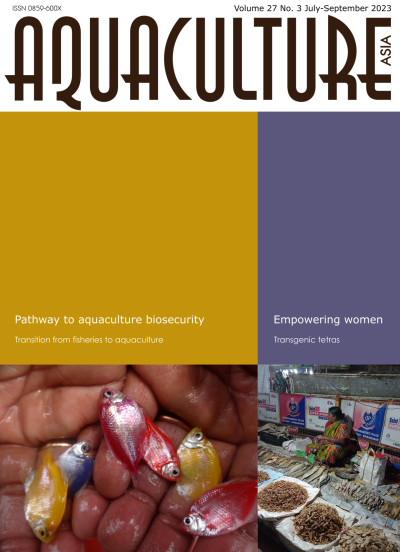 In this issue:
Pathway to aquaculture biosecurity: Mitigating risks, managing progressively and engaging the value chain
PMP/AB Technical Working Group
Important considerations for feed and feeding management during Indian catfish culture
S.K. Sahoo, S. Ferosekhan, S.N. Sahoo, P.K. Tiwari, B. Mishra and S.S. Giri
A transitional journey from fisheries to aquaculture in Moyna
R.N. Mandal, S. Adhikari, B.N. Paul, D.N. Chattopadhyay, P.P. Chakraborti, A. Das, F. Haque, A. Hussan, G.S. Saha, B.R. Pillai, and S.K. Swain
Colour widow tetra: A new and highly preferred aquarium fish in West Bengal
Srabanti Ghosh
Expanding the horizon of aquaculture through women's empowerment
Gora Shiva Prasad, Sangram Keshari Rout, Rajesh Debnath, Suchismita Prusty, Sutanu Karmakar, Dharma Raj Patro,  and P. Sruthi
NACA Newsletter
Creative Commons Attribution.
Related