1 January 2014 | 241 Downloads | .pdf | 1.3 MB | Tags: Bangladesh, China, Freshwater finfish, Health, India, Inland aquaculture, Malaysia, Nutrition and feeding, Philippines, Shrimp, Thailand, Training and education, Vietnam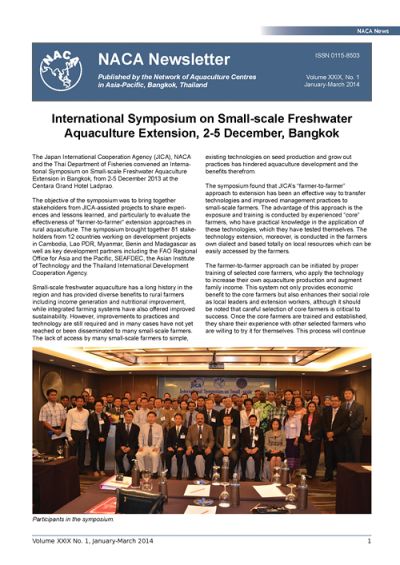 International Symposium on Small-scale Freshwater Aquaculture Extension, 2-5 December, Bangkok.
12th Meeting of the Asia Regional Advisory Group on Aquatic Animal Health.
National Workshop on EMS/AHPND of Cultured Shrimp held in India.
Report on early mortality syndrome / acute hepatopancreatic necrosis syndrome of shrimp.
Sustaining Ethical Aquaculture Trade Newsletter.
India and the AFSPAN Project.
Report on AFSPAN Chilean survey.
Feeding and feed management of Indian major carps in Andhra Pradesh.
Creative Commons Attribution.
Related