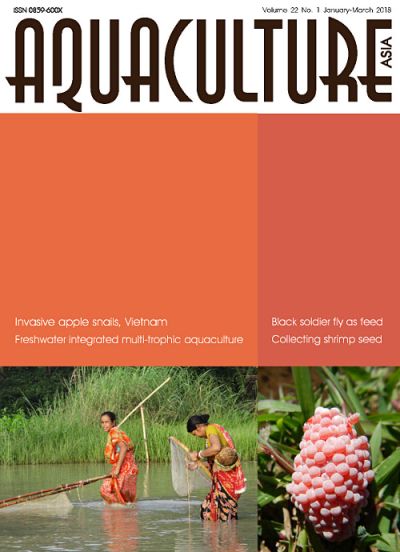 In this issue:
Invasive apple snails (Pomacea spp.) in Vietnam: Short review
Do Van Tu, Nguyen Phuong Nha, and Ravindra C. Joshi
A review of fresh water integrated multi-trophic aquaculture: Catching up on the dream of a blue revolution in India
Tarang Kumar Shah and Sapana Rani Charak
Pre-pupae (larvae) of black soldier fly - a potential alternate protein source for aquaculture feeds
B. Gangadhar, B.S. Anand Kumar, M.R. Raghunath and N. Sridhar
Penaeid shrimp and giant prawn seed collection from Rupnarayan River in Purba Medinipur, West Bengal, India
Subrato Ghosh
NACA Newsletter
Creative Commons Attribution.
Related