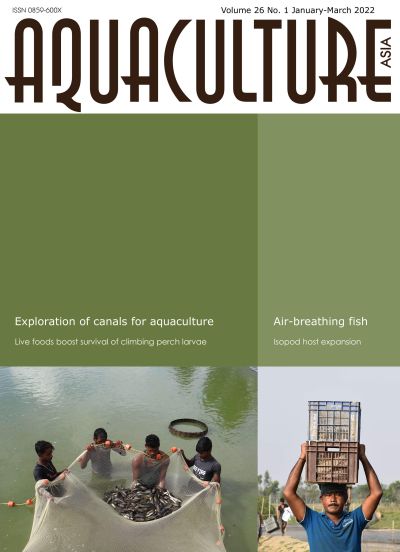 In this issue:
Exploration of canal resources as a potential source for fish production in the Indian Sundarbans
Archana Sinha, Aparna Roy, Pranab Gogoi, Tasso Tayung, Mitesh. H. Ramteke, Arunava Mitra, Subhendu Mondal and Basanta Kumar Das
Expansion of new host range of isopod Tachaea spongillicola infestation to fish species could pose a risk to aquaculture food industry in southeast Asian countries
Amiya Kumar Sahoo, Dharmendra Kumar Meena, Basanta Kumar Das
Aspects of air-breathing fish farming practiced at Mathurapur-II Block, West Bengal, India
Subrato Ghosh and Pulakesh Purkait
Magical role of live foods in boosting spawn survival of climbing perch: A success in the farmer's field
D.N. Chattopadhyay, S. Adhikari, B.N. Paul, R.N. Mandal, G.S. Saha, B.R. Pillai and S.K. Swain
NACA Newsletter
Creative Commons Attribution.
Related