31 August 2022 | 4876 views | .pdf | 10.71 MB | Freshwater finfish, Gender, Hatchery and nursery, Health and welfare, Livelihoods, gender and social issues, Molluscs (shellfish and other), Shrimp, India, Ornamentals, Artemia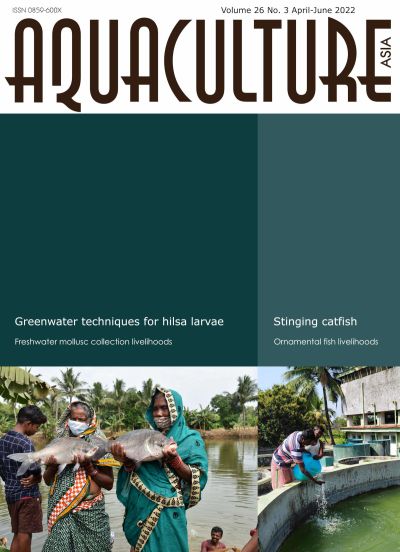 In this issue:
Dynamics of small-scale aquaculture development in India: A review


Himansu K. De, Gour S. Saha, Abhijit S. Mahapatra and Simantini Shasani

Green water technology as an essential support to larval rearing of hilsa shad


D.N. Chattopadhyay, R.N. Mandal, A. Chakraborty, P.K. Roy, A. Das, A. Hussan, S. Adhikari, B.R. Pillai and S.K. Swain

Collection of freshwater molluscs and sale of meat by women in Purba Medinipur, West Bengal, India


Subrato Ghosh

A success story of ornamental fish farming as a tool for alternative livelihood of tribal women in Keonjhar District, Odisha, India


Saibala Parida, Saroj Kumar Swain and Sangram Kumar Sahoo

Recent trends in seed production of stinging catfish, Heteropneustes fossilis, in India


S.K. Sahoo, S. Ferosekhan, S.N. Sahoo, P.C. Das and S.S. Giri

NACA Newsletter
Creative Commons Attribution.
Related