1 July 2014 | 419 Downloads | .pdf | 3.63 MB | Tags: Australia, Bangladesh, Cambodia, China, Culture-based fisheries, Genetics and biodiversity, Hatchery and nursery, Health, India, Lao PDR, Livelihoods and social issues, Malaysia, Nutrition and feeding, Philippines, Shrimp, Thailand, Training and education, Vietnam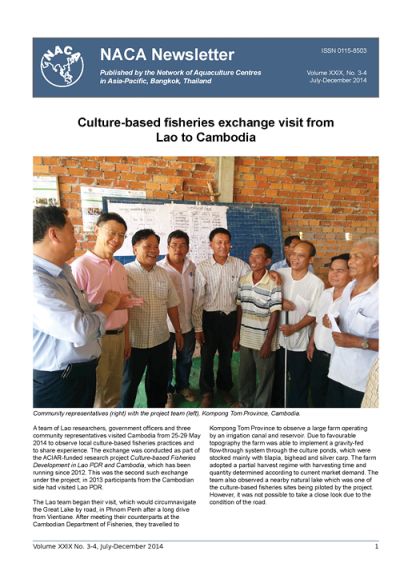 Culture-based fisheries exchange visit from Lao to Cambodia.
National Fish Day, Cambodia.
WAS Adelaide: Special Session on Regional Cooperation for Improved Biosecurity.
Inbreeding and disease in tropical shrimp aquaculture: a reappraisal and caution.
Shrimp EMS/AHPND Special Session at DAA9.
2nd International Symposium on Aquaculture and Fisheries Education.
Report on Sustainable Fisheries and Aquaculture for Food Security and Nutrition.
Creative Commons Attribution.
Related