Network of Aquaculture Centres in Asia-Pacific | 22 March 2018 | 1647 Downloads | .pdf | 3.45 MB | Tags: Australia, Cambodia, China, Crabs and lobsters, Freshwater finfish, Freshwater prawns, Health, India, Indonesia, Iran, Lao PDR, Malaysia, Marine finfish, Molluscs (shellfish and other), Myanmar, Nepal, Pakistan, Philippines, Shrimp, Sri Lanka, Thailand, Vietnam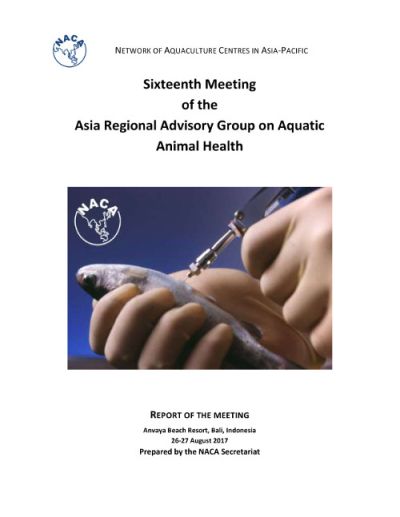 This report summarises the proceedings of the 16th meeting of the Advisory Group, held 26-27 August 2017 in Bali, Indonesia. The group discussed:
Progress in NACA's Regional Aquatic Animal Health Programme.
OIE standards and global issues.
Listing of diseases in the Quarterly Aquatic Animal Disease Report.
Regional disease status, including of shrimp, finfish, amphibian and molluscan diseases, and listing of Tilapia Lake Virus (TiLV) in the quarterly disease report system.
Reports on the aquatic animal health programmes of partner agencies.
Disease reporting and revision of the Quarterly Aquatic Animal Disease List.
Developments in antimicrobial resistance.
The Advisory Group meets annually to provide advice to NACA member governments on aquatic animal health management. The group's role includes reviewing disease trends and emerging threats in the region, identifying developments in global aquatic disease issues and standards, evaluating the Quarterly Aquatic Animal Disease Reporting Programme and providing guidance on regional strategies to improve aquatic animal health management.
Creative Commons Attribution.