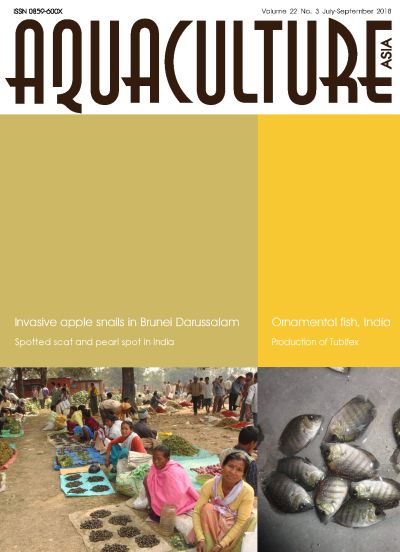 In this issue:
Rearing of Scatophagus argus and Etroplus suratensis in coastal West Bengal, India.
Subrato Ghosh and Tapan Maity
Harvesting Eurayle ferox (makhana) from wetland (beel) fisheries of Assam.
Deepjyoti Baruah and Aparna Baruah
Prospects of ornamental fish culture in seasonal water bodies of upper Assam.
Jyotirmoy Sonowal and Shyama Prasad Biswas
Production of tubifex - a new dimension in aquaculture in feeding juvenile fish.
R. N. Mandal, S. Kar, P. P. Chakrabarti, D. N. Chattopadhyay, B. N. Paul, S. Adhikari, J. Maity and B. R. Pillai
Invasive apple snails (Pomacea spp.) in Brunei Darussalam: Current status and management in irrigated transplanted rice fields.
Hajah Aidah binti Haji Mohd Hanifah, Fuziah binti Haji Hamdan, Khairunnisa binti Haji Omar Ali, Jormasita binti Jormasie, Siti Amaniah binti Haji Awang Besar, Masjuwita binti Haji Muhin, Fahmi bin Haji Masri, Norkhadijah binti Haji Latip, Haji Roslan bin Haji Pudin, Mohd Faadzel bin Haji Abdul Rahman, Nurul Hanisah binti Morni, Soetikno S. Sastroutomo, and Ravindra C. Joshi
Aquaculture: A new trend and a big opportunity in Sindh, Pakistan.
Hari Das
NACA Newsletter
Creative Commons Attribution.
Related