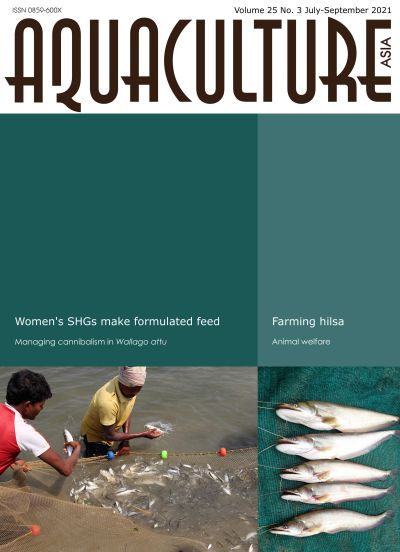 In this issue:
Opinion: Benefits of animal welfare in Indian aquaculture
Karthik Pulugurtha and Haven King-Nobles
Imparting skill on formulated fish feed preparation to women's self-help groups in villages – an experience
Subrato Ghosh
Farming of the anadromous shad, Tenualosa ilisha: Signs of taking off in India
V.R. Suresh, K.M. Sandhya, S.K. Banik, J. Mukherjee, I. Mukherjee, A.M. Sajina, T. Maity, M.K. Mukhopadhyay, R.K. Manna and B.K. Behera
Some facts on cannibalism in Wallago attu and its management during captive seed production
S.K. Sahoo, S., Ferosekhan, S.N. Sahoo and S.S. Giri
NACA Newsletter
Creative Commons Attribution.
Related