21 January 2019 | 7354 views | .pdf | 10.37 MB | Freshwater finfish, Health and welfare, Inland aquaculture, Aquatic plants, Molluscs (shellfish and other), Crabs and lobsters, Environment and sustainability, Cambodia, China, India, Thailand, Governance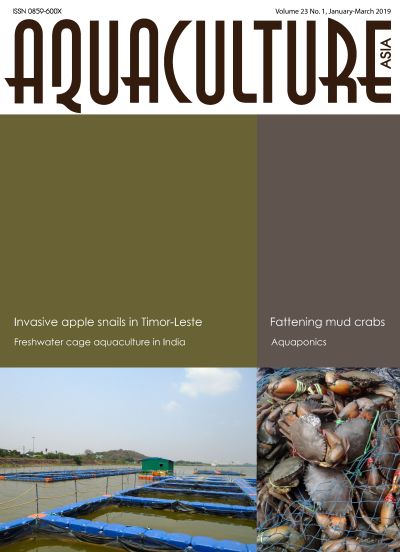 In this issue:
Current status of freshwater cage aquaculture in India.
Kalidoss Radhakrishnan, Samaraj Aanand, P. Padmavathy and Ipsita Biswas
Fattening of mud crab Scylla serrata in estuarine region of south-eastern West Bengal.
Subrato Ghosh
Aquaponics: Sustainable farming method in the right against hunger.
Rajinder Kaur
Aquatic invasive apple snails (Pomacea spp.) in Timor-Leste: Current status, spread and management in rice fields.
Americo Alves Brito, Ravindra C. Joshi and Soetikno S. Sastroutomo
NACA Newsletter.
Creative Commons Attribution.
Related