27 January 2021 | 8689 views | .pdf | 10.36 MB | Freshwater finfish, Hatchery and nursery, Livelihoods, gender and social issues, Marine finfish, Nutrition and feeding, Shrimp, Stock enhancement, Bangladesh, India, Indonesia, Water quality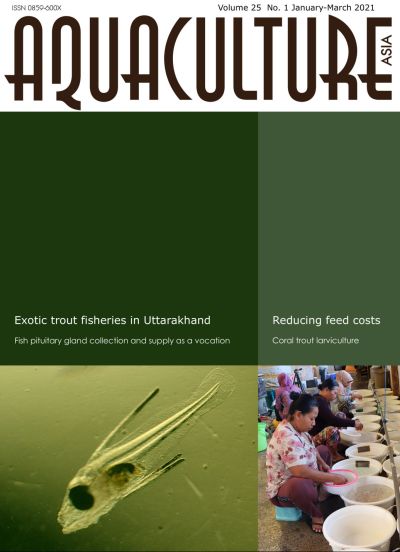 In this issue:
Exotic trout fisheries resources and potentialities in Uttarakhand
Deepjyoti Baruah, Kishor Kunal, Ravindra Posti, N.N. Pandey, Jagdamba and H.K. Purohit
Scenario of captive production of Clarias magur in India
S. Ferosekhan, S.N. Sahoo, S.S. Giri and S.K. Sahoo
Strategies to reduce feed cost by improving gut health and nutrient utilisation of fish in aquaculture
G. Sathishkumar, U. Bhavatharaniya, N. Felix, Amit Ranjan, and E. Prabhu
Fish pituitary gland collection and supply as a vocation in West Bengal, India
Subrato Ghosh
Coral trout Plectropomus leopardus aquaculture research and fingerling production in Indonesia
Yasmina Nirmala Asih, Sudewi, Afifah Nasukha and I. Nyoman Adiasmara Giri
Smartphone app improving smallholder shrimp farming practices in Bangladesh
NACA Newsletter 
Creative Commons Attribution.
Related