12 May 2015 | Sena De Silva, Brett Ingram and Simon Wilkinson | 4353 views | .pdf | 9.19 MB | Culture-based fisheries, Food security, safety and certification, Freshwater finfish, Inland aquaculture, Livelihoods, gender and social issues, Australia, Cambodia, China, Indonesia, Lao PDR, Sri Lanka, Thailand, Vietnam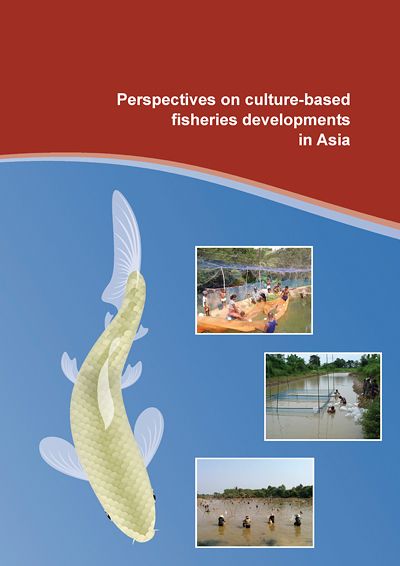 This book is the proceedings of the "Regional Consultation on Culture-Based Fisheries Development in Asia", held in Siem Reap, Cambodia, 21-23rd of October 2014, under the auspices of the Australian Centre for International Agricultural Research (ACIAR), the Mekong River Commission (MRC) and the Network of Aquaculture Centres in Asia-Pacific (NACA). The consultation was jointly organised by NACA and the Fisheries Administration of the Royal Government of Cambodia.
Food and nutritional security remains problematic in many developing countries.  There are many initiatives underway which are designed to increase food supply, employment and income opportunities, most of which require considerable capital inputs (for instance cropping, livestock production and aquaculture). Often overlooked, are the opportunities to produce more food from the natural productive ecology of lakes and forests. Culture-based fisheries are one example of a relatively simple and low cost technology which can deliver nutritional and economic benefits to communities which often have few livelihood options.
Culture-based fisheries are based in lakes and reservoirs, where fish populations are supplemented by hatchery-produced fingerlings. The stocked fish may breed naturally in the lakes, or they may be species which are desirable but which do not breed in the still-water environments. Fish growth is driven by the natural productivity of the water bodies. Generally, local communities have ownership of the fish, with the benefits shared or used for communal purposes. However, there are other options for management and ownership depending on local needs, cultural arrangements and other uses of the water.
Research and development of culture-based fisheries has been a major endeavour for NACA and ACIAR since the mid-1990s. This has involved projects in Sri Lanka, Indonesia, Vietnam, Lao PDR and Cambodia, the results of which have been reported in previous publications, as noted below. In this volume, we bring together an update from research conducted in those countries and others. We trust the information will foster further development and spread of culture-based fisheries in Asia and beyond, and in doing so, bring livelihood and nutritional benefits to otherwise resource-poor communities.
Creative Commons Attribution.
Related